Private piano tuition for young and old located in Glenbrook in the Lower Blue Mountains. Incorporating experience and technology into the lessons, my aim is to make learning piano fun.
This is a new site, and I am excited to have it up and running. I'm hoping it will be a way of keeping current information available to my students, as well as sharing links to various resources, information on performance opportunities and much more!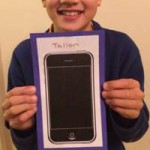 Our piano phones are ready to go! To finish off Term 2, during the month of June we will be using a great practice incentive from Teach…
Learning the piano shouldn't be all about practice and hard work.  Sometimes it's worth digging out a nice easy piece and having some fun.  Kayla sightread this piece and we had it together as a duet within a few minutes!  It's a really good confidence boost to see just how far you've come and what you now find easy, and of course to just enjoy sitting and playing.
I remember loving duets as a kid, but having no-one to play with.  My brother would join me occasionally, but not very often!  So if anyone is up for a duet, let me know, they're great fun 🙂