This school holidays we had our first piano party!  It was a lot of fun.
To kick things off we used this opportunity to listen to each other play.  We didn't polish up our pieces like we would for a recital, we just listened to what everyone is learning at the moment.  For those that hadn't been to a recital before, this was a great introduction to playing in front of an audience (with no pressure!) and for those preparing for exams later this year it was an opportunity to see where some work was needed ?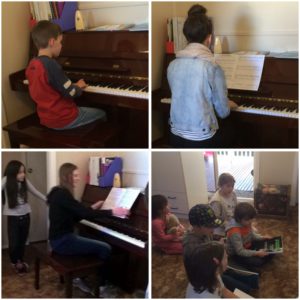 We then took the party outside for a game of Music Twister.  That was a good laugh.  The boys especially got all twisted up!
Since we focused on note recognition in Term 2, a game of Bingo was in order!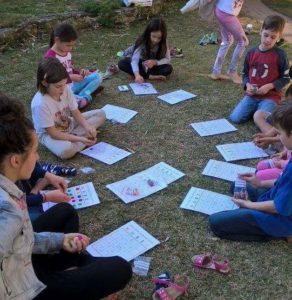 Finally, we came back inside for a game of pass the parcel.  Each layer had a specific challenge for them to complete to earn some Beethoven Bucks (our current practice incentive).  They had to do things such as hop rhythms, find notes on the piano blind folded, write certain notes on the staff, and I was most impressed with how the sight reading tasks were tackled ?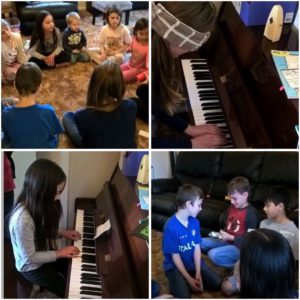 Overall, we had a great time.  One of my teenage students made a cake for the occasion, and other music themed food was provided.  All the students got along really well, they're a great bunch of kids, and I'm loving teaching every one of them.
Not to forget my gorgeous Wunderkeys kiddies though. They had their own little party the week before! We sang and danced, we played our Tiptoe like Middleton song as a game, with one student being the sleeping cat and the rest being mice tiptoeing around.  There were lots of squeals when they were chased!
What's the Note Mr Wolf was a hit too.  It was a great way for them to practice their note values.
Unfortunately, I didn't take many photos of my preschoolers, which I'm sad about, but rest assured we had fun, and a goody bag at the end always tops off a great party!
As you can see, a lot of fun was had by all!  Sending out a big thank you to my students for being so awesome and to my piano parents who are really supportive of their kids' learning as well as supporting events like this.  I also have to mention that, to my amazement, everyone was here by 2.03pm for a 2pm start. Everyone!  haha.  I don't think I've ever had that happen at any event or party I've hosted before!!
Our next event will be our Spring Recital, which we'll all be working hard towards for the next few months.  I'm hoping to have a bigger venue this time, so that we are able to invite more family and friends to come along.
Thanks again everyone for joining in and, most importantly, having fun while learning!