I'm very pleased to now offer a piano program for preschoolers! Many teachers turn away students under the age of 6 or 7, but I'm a firm believer in learning music at a young age, and this piano course is an awesome lead in to the more traditional method books.
The authors of this series have targeted this age group really well.  The developmental abilities of preschoolers are very different to that of children 6 years and over.  There are many different concepts that need to be learned before playing "traditional" piano pieces.  Over the course of the 3 books, this program will have them understanding everything they will need to know before being able to read musical notation.  It is designed to teach the earliest of piano skills. As they get to know their way around the piano we will be playing duets. This allows them to play "real pieces" along with me, keeping it fun and engaging.  It's really all about having fun and learning along the way!
Different from group lessons
The WunderKeys program has been designed as a one-on-one lesson. This allows me to personalise the lessons to each child's needs as well as make sure that your child is an active participant for the duration of the entire lesson.
My preschooler can't sit still!
Not to worry!  This program incorporates 5 different activities into the 30 minute lesson.  These activities reinforce the concepts learned in the books, and will keep your child actively engaged.  They certainly are not expected to sit patiently at the piano for the entire lesson.
Maths and Music
It is a well-known fact that music and math are closely related. WunderKeys students learn counting, sorting, ordering, classification, comparison, and pattern recognition.  What a great headstart for school!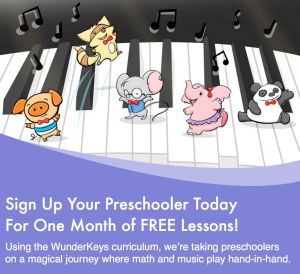 Sign us up!
Contact me today for your free introductory lessons.  I offer four free lessons for WunderKeys (yes FOUR!) with no obligation, and you won't need to purchase any books for these introductory lessons.
Come and meet our finger friends and start on a wonderful musical journey!