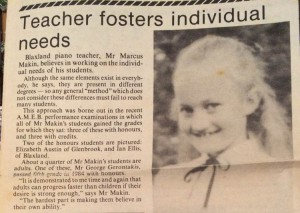 A little snippet of history. All this piano talk made me go and dig around in my mum's drawer of old stuff, to try and find this news article.   Here is me, in the Blue Mountains Gazette.  Nine years old in this photo (same age as my son right now!) but the exam would have been around November 1984, so I was 8 years old when I passed 2nd grade with honours.  I came across a lot of my AMEB certificates and reports, as well my brother's, and mum's as well.  This was back when we would travel down on the train, as a family, to the Conservatorium of Music in Sydney for our exams.  I just remember it being nerve wracking and practising on my lap all the way there lol.
The picture I've uploaded might not be big enough to read, so here's what the article said:
Blaxland piano teacher, Mr Marcus Makin, believes in working on the individual needs of his students.

Although the same elements exist in everybody, he says, they are present in different degrees – so any general "method" which does not consider these differences must fail to reach many students.

This approach was borne out in the recent AMEB performance examinations in which all of Mr Makin's students gained the grades for which they sat: three of these with honours, and three with credits.

Two of the honours students are pictured: Elizabeth Austin of Glenbrook, and Ian Ellis, of Blaxland.

About a quarter of Mr Makin's students are adults. One of these, Mr George Gerontakis, passed fifth grade in 1984 with honours.

"It is demonstrated to me time and again that adults can progress faster than children if their desire is strong enough," says Mr Makin.

"The hardest part is making them believe in their own ability."

~Blue Mountains Gazette, Wednesday, January 23, 1985
I absolutely agree with him.  Not every student suits a certain method.  And it's definitely never too late to learn piano!
This got me thinking about the different teachers I had over the years, and how each one taught so differently, yet I seemed to thrive under each one of them.  I definitely find myself incorporating things from each of them in my own teaching.  I wonder where they all are now…..